NIEUWSBRIEF 29 JANUARI
NIEUWSBRIEF VAN 26 JANUARI
---
'T OOR KOMT NAAR JE TOE DEZE LOCKDOWN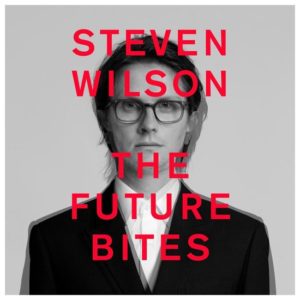 STEVEN WILSON – Future Bites (lp/cd) 22,95/14,95
Deze week komt hij echt, de langverwachte nieuwe plaat van Steven Wilson!
We krijgen hem ruim op voorraad dus we horen graag van alle progliefhebbers.
Volgende week komen onder andere de nieuwe albums van de Foo Fighters en Fleet Foxes.
Voor deze titels en andere bestellingen zijn we dagelijks telefonisch (035-6216579) bereikbaar van 11:00 tot 13:00 of kan er via de mail (ln.ro1686319524o-teh1686319524-siuh1686319524netal1686319524p@mus1686319524revli1686319524h1686319524) of Facebook besteld worden.
We zien jullie bestellingen graag tegemoet!
---
DISQUE D'OOR:
VIAGRA BOYS – Welfare Jazz (lp/cd) 22,95/15,95
Het tweede album van de Viagra Boys is onze eerste Disque d'Oor van 2021!
De 'Common Sense' EP die vorig jaar verscheen was al een goed voorteken en 'Welfare Jazz' is zowaar nog beter.
Opener 'Ain't Nice' is een hit, 'Creatures' een heerlijk donker nummer en als afsluiter doen ze zelfs een hilarisch uitstapje naar de country.
De nummers op deze plaat zijn iets rustiger dan op het debuut 'Street Worms', oftewel minder 'Talking Heads on Speed' en meer invloeden van bijvoorbeeld Tom Waits, Frank Zappa en Faith No More.
Na het horen van deze plaat zouden wij graag in de platencollectie van deze heren willen kijken om te horen hoe ze aan hun unieke sound komen.
Wij hebben deze plaat in ieder geval gekocht en we raden iedereen aan om hetzelfde te doen!
---
VERWACHT VRIJDAG 29 JANUARI:
ACCEPT – Too Mean To Die (2lp/cd) 29,95/19,95
ARLO PARKS – Collapsed in Sunbeams (lp/cd) 27,95/17,95
BAIO – Dead Hand Control =Vampire Weekend= (lp/cd) 22,95/16,95
GOAT GIRL – On All Fours (2lp/cd) 29,95/16,95
GWENIFER RAYMOND – Strange Lights Over Garth Mountain (lp/cd) 29,95/16,95
JAMES YORKSTON AND THE SECONDHAND ORCHESTRA – Wide, Wide River (lp/cd) 24,95/16,95
JOAN AS POLICE WOMAN – Live (2lp/cd) 29,95/16,95
LITTLE BARRIE & MALCOLM CATTO – Quartermass Seven (lp/cd) 27,95/18,95
LONELY THE BRAVE – Hope List (lp/cd) 27,95/16,95
NOTWIST – Vertigo Days (cd) 18,95
P.J. HARVEY – Is This Desire? =demos= (lp/cd) 27,95/16,95
RATS ON RAFTS – Excerpts From Chapter 3: the Mind Runs a Net of Rabbit Paths (lp/cd) 24,95/18,95
RICK WAKEMAN – Two Sides of Yes (2lp/2cd) 54,95/20,95
SOEN – Imperial (lp/cd) 34,95/18,95
STEVE HACKETT – Under a Mediterranean Sky (2lp+cd/cd) 34,95/18,95
STEVEN WILSON – Future Bites (lp=coloured/lp/blu-ray/cd) 27,95/22,95/22,95/14,95
STILL CORNERS – Last Exit (lp/cd) 29,95/17,95
TEMPERS – Services (lp/cd) 27,95/16,95
TWO CHAINZ – So Help Me God! (cd) 16,95
WAILING SOULS – Back a Yard (lp/cd) 18,95/15,95
WARDRUNA – Kvitravn (2lp/cd) 34,95/18,95
YOU ME AT SIX – Suckapunch (lp/cd) 22,95/17,95
VINYL REISSUES:
P.J. HARVEY – Is This Desire (lp) 27,95
---
---
NIEUW IN HUIS:
AARON FRAZER – Introducing… (lp/cd) 27,95/17,95
KURT VILE – Speed Sound Lonely Kv (12"/cd) 14,95/10,95
RHYE – Home (2lp/cd) 27,95/16,95
SHAME – Drunk Tank Pink (lp/cd) 24,95/17,95
SLEAFORD MODS – Spare Ribs (lp/cd) 24,95/15,95
METAL/PROG/PUNK:
BRING ME THE HORIZON – Post Human: Survival Horror (lp/cd) 27,95/18,95
DEAD DAISIES – Holy Ground (2lp/cd) 44,95/20,95
THERION – Leviathan (lp/cd) 29,95/19,95
HIP-HOP/DANCE/ELECTRONISCH:
AVALANCHES – We Will Always Love You (2lp=coloured=/2lp/cd) 42,95/37,95/16,95
TYPHOON – Lichthuis (lp) 24,95
JAZZ:
KAMASI WASHINGTON – Becoming (Music from the Netflix Original Documentary) (lp/cd) 22,95/16,95
SIXTIES/SEVENTIES:
JOHN FOGERTY – Fogerty's Factory (lp) 24,95
SOUL/FUNK/R&B:
LEE FIELDS & THE EXPRESSIONS – Big Crown Vaults Vol.1 (lp/cd) 27,95/17,95
BLUES/FOLK/AMERICANA:
DRIVE-BY TRUCKERS – New Ok (cd) 16,95
WARD DAVIS – Black Cats and Crows (lp/cd) 32,95/15,95
REGGAE/WORLD:
BOMBINO – Live in Amsterdam (2lp/cd) 27,95/16,95
VINYL:
BOB DYLAN – John Wesley Harding (lp =coloured=) 24,95/ Nashville Skyline (lp =coloured=) 24,95
CREATION – How Does it Feel To Feel (lp) 29,95/ Power (lp) 29,95/ Psychedelic Rose (lp) 29,95/ We Are Paintermen (lp) 29,95
DILLINGER ESCAPE PLAN – Calculating Infinity (lp) 27,95/ Ire Works (lp) 27,95/ Miss Machine (lp) 27,95
DIO – Dream Evil (lp) 22,95/ Holy Diver (lp) 22,95/ Intermission (lp) 22,95/ Last in Line (lp) 22,95/ Lock Up the Wolves (2lp) 29,95/ Sacred Heart (lp) 22,95/ Strange Highways (2lp) 29,95
LEE PERRY – Africa's Blood (lp) 22,95
LIVING COLOUR – Stain (lp) 22,95
OBITUARY – End Complete (lp) 29,95
TEENAGE FANCLUB – Songs From Northern Britain (lp) 24,95