NIEUWSBRIEF 28 JULI
---
BILLIE EILISH – Happier Than Ever (2lp/cd) 39,95/18,95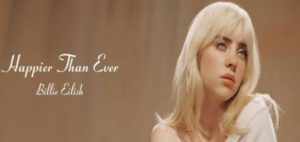 Deze week komt het nieuwe album van Billie Eilish uit!
Haar vorige album heeft vele jaarlijsten gehaald dankzij fantastische nummers zoals 'Bad Guy' en 'You Should See Me in a Crown'.
We hopen natuurlijk dat 'Happier Than Ever' net zo goed is!
Voor de liefhebbers die als eerste de lp of cd komen halen hebben we in ieder geval een prachtige poster, maar het aantal is beperkt dus op is op.
Wil je verzekerd zijn van de lp of cd met een poster erbij kan er tot en met donderdag nog voor genoteerd worden.
---
VERWACHT VRIJDAG 30 JULI:
AESOP ROCK – Appleseed (lp/cd) 27,95/15,95
ARETHA FRANKLIN – Aretha (4cd/2lp/cd) 59,95/29,95/18,95
AXEL RUDI PELL – Diamonds Unlocked II (2lp/cd) 39,95/19,95
BIG BIG TRAIN – Common Ground (2lp/cd) 34,95/19,95
BILL EVANS – Behind the Dikes (2cd) 27,95
BILLIE EILISH – Happier Than Ever (2lp/cd) 39,95/18,95
BLACK MAGIC SIX – Choose Death (lp/cd) 29,95/16,95
DANA GILLESPIE – Deep Pockets (cd) 15,95
DEE SNIDER – Leave a Scar (lp/cd0 24,95/16,95
DURAND JONES & THE INDICATIONS – Private Space (lp/cd) 29,95/16,95
EMMA-JEAN TACKRAY – Yellow (2lp/cd) 24,95/14,95
EVERGREY – A Night To Remember (3lp/2cd+2dvd) 39,95/22,95
GIPSY KINGS – Roots =reissue= (cd) 9,95
INGESTED – Surreption II (lp/cd) 34,95/18,95
JIM LAUDERDALE – Hope (cd) 16,95
JON LORD – Blues Project Live (cd) 16,95
LOS LOBOS – Native Sons (2lp/cd) 27,95/17,95
LUCINDA WILLIAMS – Lu's Jukebox Vol.2 (cd) 16,95
MATT SWEENEY & BONNIE PRINCE BILLY – Superwolves (lp/cd) 27,95/16,95
NIGHT BEATS – Outlaw R&B (lp/cd) 24,95/16,95
PRINCE – Welcome 2 America (2lp+cd+blu-ray/2lp/cd) 129,95/37,95/17,95
SON VOLT – Electro Melodier (lp/cd) 24,95/14,95
U-ROY – Solid Gold (cd) 18,95
V/A – Choctaw Ridge (2lp/cd) 39,95/15,95
VADER – De Profundis =reissue= (lp/cd) 29,95/18,95
YNGWIE MALMSTEEN – Parabellum (2lp/cd) 29,95/22,95
YOLA – Stand For Myself (lp/cd) 27,95/16,95
VINYL REISSUES:
2PAC – Best of 2Pac Part 1: Thug (2lp) 29,95/ Best of 2Pac Part 2: Life (2lp) 29,95
BRYAN FERRY – Another Time, Another Place (lp) 24,95/ Boys and Girls (lp) 24,95/ Bride Stripped Bare (lp) 24,95/ In Your Mind (lp) 24,95/ Let's Stick Together (lp) 24,95/ These Foolish Things (lp) 24,95
CARIBOU – Milk of Human Kindness (lp+cd) 22,95/ Start Breaking My Heart (lp+cd) 22,95/ Up in Flames (lp+cd) 22,95
GOLDEN EARRING – To the Hilt (lp) 24,95
LEE PERRY – Africa's Blood (lp) 24,95
MARILLION – Script For a Jester's Tear (lp) 24,95
TIM BUCKLEY – Happy Sad (lp) 24,95
NIEUW IN HUIS:
ANNE-MARIE – Therapy (lp/cd) 24,95/18,95
ANNE SOLDAAT – Facts & Fears (lp/cd) 24,95/16,95
BOBBY GILLESPIE & JEHNNY BETH – Utopian Ashes (lp/cd) 22,95/18,95
CHET FAKER – Hotel Surrender (cd) 18,95
DESCENDENTS – 9th & Walnut (lp/cd) 22,95/15,95
GLEN CAMPBELL – Live From the Troubadour (cd) 16,95
IDA MAE – Click Click Domino (lp/cd) 24,95/14,95
JACKSON BROWN – Downhill From Everywhere (cd) 18,95
JOHN MAYER – Sob Rock (lp=coloured=/lp/cd) 32,95/27,95/17,95
KING GIZZARD & THE LIZARD WIZARD – Butterfly 3000 (cd) 16,95
LIZ PHAIR – Soberish (lp/cd) 29,95/16,95
LONELADY – Former Things (lp/cd) 24,95/16,95
MOLLY BURCH – Romantic Images (lp/cd) 27,95/16,95
MOUNTAIN GOATS – Dark in Here (2lp/cd) 29,95/15,95
MUSE – Origin of Anniversary Remixx (2lp) 29,95
PAUL MCCARTNEY =TRIBUTE= – Three Imagined (2lp/cd) 44,95/17,95
ROLLING STONES – A Bigger Bang (2cd+2blu-ray/2cd+2dvd/3lp=coloured=3lp/2cd+blu-ray/2cd+dvd) 54,95/49,95/52,95/49,95/32,95/29,95
ROWWEN HEZE – Onderaan Beginne (lp/cd) 22,95/15,95
TOM ODELL – Monsters (lp/cd) 24,95/18,95
V/A – Bills & Aches & Blues: 40 Years of 4AD (2lp/2cd) 29,95/18,95
WALLFLOWERS – Exit Wounds =Zoon van Bob Dylan= (lp/cd) 27,95/17,95
WAVVES – Hideaway (cd) 16,95
METAL/PROG/PUNK:
AT THE GATES – Nightmare of Being (2lp+3cd/2lp/2cd/cd) 89,95/27,95/24,95/18,95
BORN OF OSIRIS – Angel or Alien (cd) 14,95
DARK TRANQUILITY – Gallery =reissue= (lp/cd) 27,95/11,95/ Mind's I (lp/cd) 27,95/11,95
DEVIN TOWNSEND – Devolution Series: Galactic Quarantine (3lp/2cd) 34,95/24,95
DISTANT – Aeons of Oblivion (cd) 22,95
DREAM THEATER – Lost Not Forgotten Archives: A Tramatic Tour of Events (3lp+2cd/2cd) 44,95/18,95
FEAR FACTORY – Aggression Continuum (cd) 18,95
HELLOWEEN – Helloween (2lp/2cd) 34,95/22,95
OPETH – Blackwater Park =reissue= (2lp/cd) 27,95/18,95
PARADISE LOST – At the Mill =Live= (2lp/cd+blu-ray) 29,95/22,95
POWERWOLF – Call of the Wild (lp/cd) 24,95/17,95
QUEENSRYCHE – Empire =reissue= (3cd+dvd/2lp/2cd) 64,95/29,95/22,95) Operation: Mindcrime (4cd+dvd/2lp/2cd) 64,95/29,95/22,95
VOLBEAT – Hokus Bonus (lp) 24,95
HIP-HOP/DANCE/ELECTRONISCH:
BODYCOUNT – Smoke Out Presents (cd+dvd) 16,95
CZARFACE & Mf Doom (lp/cd) 34,95/16,95
DARKSIDE – Spiral (2lp/cd) 24,95/16,95
J. COLE – Off-Season (cd) 16,95
MOBY – Reprise (2lp/cd) 32,95/18,95
NILS FRAHM – Graz (lp/cd) 34,95/18,95
JAZZ:
ALICE COLTRANE – Kirtan: Turiya Sings (2lp/cd) 34,95/19,95
BILL EVANS – On a Friday Evening (2lp/cd) 32,95/16,95
MILES DAVIS – Merci, Miles! Live at Vienne (2lp/2cd) 39,95/19,95
SIXTIES/SEVENTIES:
FRED NEIL – Tear Down the Walls & Bleeker and Macdougal (cd) 9,95
GEORGIE FAME – Complete Live Broadcasts (2cd) 18,95
V/A – Hurdy Gurdy Songs (cd) 18,95
SOUL/FUNK/R&B:
LAURA MVULA – Pink Noise (lp/cd) 24,95/18,95
LEON BRIDGES – Gold-Diggers Sound (lp=coloured=/lp/cd) 37,95/32,95/18,95
V/A – Stop the War =Kent= (cd) 15,95
V/A – You Gave Me Reason To Live =Kent= (cd) 15,95
BLUES/FOLK/AMERICANA:
AMY HELM – What the Flood Leaves Behind (lp/cd) 27,95/18,95
CEDRIC BURNSIDE – I Be Trying (lp/cd) 27,95/15,95
CHRISTONE 'KINGFISH' INGRAM – 662 (cd) 16,95
ETTA JAMES – Montreux Years (2lp/2cd) 29,95/19,95
HISS GOLDEN MESSENGER – Quietly Blowing It (lp=coloured=/lp/cd) 29,95/24,95/15,95
FLATLANDERS – Treasure of Love (cd) 14,95
ROSE CITY BAND – Earth Trip (lp/cd) 29,95/17,95
TEDESCHI TRUCKS BAND – Layla Revisited (3lp/2cd) 64,95/24,95
REGGAE/SKA/WORLD:
MIRIAM MAKEBA – Keep Me in Mind (lp/cd) 24,95/14,95
VINYL:
DEXTER GORDEN – Go! (lp) 24,95
EVA CASSIDY – Acoustic (2lp) 29,95
PENNYWISE – Land of the Free (lp) 24,95
SHINS – Oh Inverted World (lp) 24,95