NIEUWSBRIEF 28 SEPTEMBER
NIEUWSBRIEF VAN 28 SEPTEMBER
---
NIEUWE RELEASES
Ondanks het heerlijke nazomer weer, doet de herfst toch voorzichtig zijn intrede.
Vooralsnog met louter kwaliteitsneerslag; de najaarsrelease-regen barst los!
Deze week met onder andere Neil Young, Yes, Racoon en nieuw werk van The Stranglers.
Kom vooral aanwaaien in de Leeuwenstraat!

---
LET IT BE
Na White Album en Abbey Road volgt er nu ook een prachtige heruitgave van het laatste studio album van de Beatles!
Net als bij zijn voorgangers kun je verschillende versies verwachten; naast de reguliere CD en LP versie is daar een 2CD, een 5CD+BlueRay en een 4LP+12 inch box.
Dit alles vind je 15 oktober in onze winkel!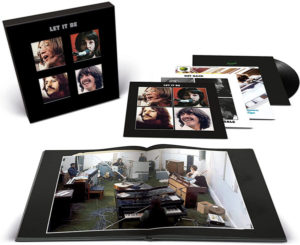 ---
VERWACHT VRIJDAG 1 OKTOBER:
BLACK SABBATH – Technical Exstasy (5lp/4cd) 149,95/109,95
BLEK, JOHN – On Ether & Air (lp/cd) 29,95/19,95
BOND, GRAHAM – Solid Bond =reissue= (cd) 9,95
CLAW BOYS CLAW – Kite (2lp/cd) 29,95/16,95
ETHERIDGE, MELISSA – One Way Out (lp/cd) 22,95/18,95
EXPLOSIONS IN THE SKY – Big Bend (An Original Soundtrack For Public Television (2lp/cd) 32,95/16,95
FELICE BROTHERS – From Dreams To Dust (lp/cd) 27,95/16,95
FISH, SAMANTHA – Faster (lp/cd) 27,95/16,95
GOLDEN EARRING – Moontan =expanded= (2cd) 18,95
HAWKWIND – Somnia (lp/cd) 34,95/18,95
HEIDEROOSJES – Infocalyps (lp/cd) 24,95/16,95
ISILDURS BANE & PETER HAMILL – In Disequilibrium (lp/cd) 29,95/16,95
JONES, SETH LEE – Flathead (lp/cd) 24,95/15,95
KINDEREN VOOR KINDEREN – 42: Wat je Worden Wil (cd) 15,95
KNOPFLER, MARK – Studio Albums 1996-2007 (11lp/6cd) 169,95/37,95
LADY GAGA & TONY BENNETT – Love For Sale (lp/2cd/cd) 29,95/29,95/18,95
MALIN, JESSE – Sad and Beautiful (2lp/2cd) 39,95/24,95
MARLEY, BOB & THE WAILERS – Capitol Sessions '73 (cd) 18,95
METALLICA =TRIBUTE= – Metallica Blacklist (7lp/4cd) 199,95/32,95
MINISTRY – Moral Hygiene (lp/cd) 29,95/18,95
MOUNTAIN – Live in the 70's (3cd) 20,95
NORMAAL – Normale Verhale (cd+book) 29,95
PACESHIFTERS – Brand New Plan (cd) 15,95
POND – 9 (lp/cd) 29,95/16,95
PUBLIC SERVICE BROADCASTING – Bright Magic (lp/cd) 27,95/17,95
RACOON – Spijt is Iets Voor Later (2lp/cd) 27,95/18,95
SCRIPT – Tales From the Script: Greatest Hits (cd) 18,95
SMALL BREED – Remember a Dream =Ex-Black Marble Selection= (lp/cd) 19,95/11,95
SOMEONE – Shapeshifter (lp/cd) 27,95/15,95
SPECIALS – Protest Songs 1924-2012 (lp/cd=deluxe=/cd) 27,95/22,95/16,95
STIKSTOF – Familie Boven Alles (2lp/cd) 29,95/18,95
STRANGLERS – Dark Matters (cd) 16,95
SUUNS – Witness (lp/cd) 29,95/16,95
TAYLOR, JOANNE SHAW – Blues Album (cd) 17,95
TAYLOR, ROGER – Outsider (lp/cd) 29,95/18,95
TREMONTI – Marching in Time (2lp/cd) 32,95/17,95
TYLER, THE CREATOR – Call Me If You Get Lost (cd) 18,95
ULVER – Themes From William Blake's the Marriage of Heaven and Hell =expanded= (2lp/2cd) 39,95/15,95
V/A – Can I Be a Witness: Stax Southern Groove (cd) 15,95
VAN DER GRAAF GENERATOR – Charisma Years (17cd+3blu-ray) 149,95
VANGELIS – Juno To Jupiter (cd=deluxe=/cd) 44,95/18,95
VELVET UNDERGROUND =TRIBUTE= – I'll Be Your Mirror (2lp/cd) 34,95/16,95
YES – Quest (2lp+2cd+blu-ray/2lp+2cd/2cd+blu-ray/2cd) 149,95/54,95/54,95/18,95
YOUNG, NEIL – Carnegie Hall 1970 (2lp/2cd) 29,95/22,95
VINYL REISSUES:
SIGUR ROS – Agaetis Byrjun (2lp) 32,95
NIEUW IN HUIS:
ASFALTFEEËN – Zwart Glimmend Chroom (lp/cd) 24,95/16,95
BEVIS FROND – Little Eden (2lp/2cd) 37,95/18,95
BIG RED MACHINE – How Long Do You Think It's Gonna Last? (2lp=coloured=/2lp/cd) 32,95/29,95/15,95
BUCKINGHAM, LINDSEY – Lindsey Buckingham (lp=coloured=/lp/cd) 32,95/29,95/18,95
BURT, TRÉ – You, Yeah You (cd) 14,95
CARRACK, PAUL – One on One (cd) 16,95
COSTELLO, ELVIS & THE ATTRACTIONS – Spanish Model (lp/cd) 29,95/16,95
DANKO JONES – Power Trio (lp/cd) 34,95/22,95
DEX, DIGGY – Carrousel (lp/cd) 27,95/18,95
DWYER, JOHN – Moon-Drenched =OHSEES= (lp/cd) 24,95/17,95
DYLAN, BOB – Bootleg Series 16: Springtime in New York 1980-1985 (5cd/2lp/2cd) 129,95/44,95/18,95
FAGEN, DONALD – Nightfly: Live (cd) 16,95
GENESIS – Last Domino (4lp/2cd) 79,95/18,95
GONZALES, JOSÉ – Local Valley (lp/cd) 27,95/17,95
HAAN, DJURRE DE – Monsters En Freaks: Indiepop voor Beginners (lp/cd) 27,95/16,95
HALSEY – If I Can't Have Love, I Want Power (lp/cd) 29,95/18,95
VEEN, HERMAN VAN – Dat Kun je Wel Zien Dat is Hij (boek+cd) 27,95
HYNDE, CHRISSIE – Standing in the Doorway: Chrissie Hynde Sings Bob Dylan (lp/cd) 29,95/18,95
IMAGINE DRAGONS – Mercury Act 1 (lp/cd=deluxe=/cd) 27,95/27,95/18,95
IMBRUGLIA, NATALIE – Firebird (lp/cd=deluxe=/cd) 39,95/24,95/18,95
KILLERS – Pressure Machine (lp/cd) 29,95/18,95
LA BELLE ÉPOQUE – Volume 1 (lp/cd) 20,95/16,95
LIMINANAS & LAURENT GARNIER – De Pelicla (cd) 17,95
LOW – Hey What (lp/cd) 27,95/18,95
MANIC STREET PREACHERS – Ultra Vivid Lament (lp/2cd/cd) 24,95/34,95/18,95
MCMORROW, JAMES VINCENT – Grapefruit Season (lp/cd) 24,95/18,95
MELLENCAMP, JOHN – Good Samaritan Tour 2000 (lp/cd+dvd) 27,95/22,95
MILLIGAN, MALFORD – I Was a Witness (lp/cd) 21,95/18,95
QUEEN'S PLEASURE – Words To Live By, Suits To Die in (cd) 16,95
REED, JIMMY =TRIBUTE= – Mr. Luck: Live at the Royal Albert Hall =Ronnie Wood= (2lp/cd) 39,95/18,95
ROMANO, DANIEL – Cobra Poems (lp/cd) 24,95/16,95
RUMER – Live From Lafayette (2lp/cd) 27,95/14,95
SAINT ETIENNE – I've Been Trying To Tell You =Bob Stanley= (lp/cd+dvd/cd) 29,95/18,95/17,95
SLOPER – Pulverise (lp/cd) 22,95/18,95
STARR, RINGO – Change the World =ep= (cd) 16,95
STEELY DAN – Northeast Corridor: Steely Dan Live (cd) 16,95
SUPERGRASS – In It For the Money (lp+12"/3cd) 34,95/24,95
V/A – Best of Bond…James Bond (3lp/2cd) 54,95/18,95
V/A – Hitzone 99 (cd) 14,95
VACCINES – Back in Love City (lp/cd) 22,95/17,95
VILLAGERS – Fever Dreams (lp/cd) 24,95/16,95
WHITE, MATTHEW E. – K Bay (2lp/cd) 24,95/16,95
METAL/PROG/PUNK:
ABORTED – Maniacult (2lp/cd) 27,95/16,95
AMYL & THE SNIFFERS – Comfort To Me (lp/cd) 32,95/16,95
CARCASS – Torn Arteries (2lp/cd) 29,95/19,95
DREAM THEATER – Lost Not Forgotten Archives: Master of Puppets Live in Barcelona (2lp+cd/cd) 29,95/19,95
HACKETT, STEVE – Surrender of Silence (3lp/cd+blu-ray/cd) 37,95/49,95/18,95
IRON MAIDEN – Senjutsu (3lp/2cd+blu-ray/2cd=O card=/2cd) 49,95/109,95/22,95/20,95
JARRE, JEAN-MICHEL – Welcome To the Other Side: Live in Notre-Dame Vr (lp/cd+blu-ray) 24,95/18,95
METALLICA – Metallica (2lp/3cd/cd) 34,95/29,95/18,95
OLZON, ANETTE – Strong =Ex-Nightwish= (2lp/cd) 37,95/'17,95
SEPULTURA – Sepulquarta (2lp/cd) 29,95/18,95
SEX PISTOLS – 76-77 (4cd) 59,95
TESSERACT – Portals (3lp/2cd) 49,95/18,95
U.F.O. – Force It (2lp/2cd) 32,95/19,95
HIP-HOP/DANCE/ELECTRONISCH:
FLYING LOTUS – Yasuke =OST= (lp/cd) 24,95/16,95
JOY ORBISON – Still Slipping Vol.1 (lp/cd) 22,95/16,95
JUNGLE – Loving in Stereo (lp/cd) 24,95/15,95
LITTLE SIMZ – Sometimes I Might Be Introvert (2lp/cd) 27,95/17,95
RAKEI, JORDAN – What We Call Life (lp/cd) 24,95/17,95
JAZZ:
METHENY, PAT – Side-Eye Nyc (2lp/cd) 34,95/22,95
PEYROUX, MADELEINE – Careless Love (3lp/2cd) 64,95/22,95
TACKRAY, EMMA-JEAN – Yellow (2lp/cd) 24,95/14,95
SIXTIES/SEVENTIES:
BEACH BOYS – Feel Flows: The Sunflower & Surf's Up Sessions 69-71 (5cd/4lp/2lp/2cd) 99,95/89,95/29,95/19,95
BINTANGS – These Hands: 1961-2021 (cd) 19,95
CUBY + BLIZZARDS – Grolloo Blues (2lp/2cd) 39,95/24,95
NYRO, LAURA – Go Find the Moon: the Audition Tapes (lp/cd) 29,95/22,95
SOUL/FUNK/R&B:
V/A – Good Good Feeling! More Motown Girls =ACE= (cd) 18,95
V/A – Psychedelic Soul =ACE= (cd) 18,95
YOLA – Stand For Myself (lp/cd) 27,95/16,95
BLUES/FOLK/AMERICANA:
CAPPS, GARRETT T. – I Love San Antone (cd) 19,95
CROCKETT, CHARLEY – Music City U.S.A. (cd) 14,95
DEVIL MAKES THREE – I'm a Stranger Here (lp/cd) 24,95/16,95
DRIVE-BY TRUCKERS – Plan 9 (3lp/2cd) 34,95/19,95
FORD, ROBBEN – Pure (lp/cd) 24,95/19,95
FOWLER, MATTHEW – Grief We Gave Our Mother (cd) 16,95
HARRIS, EMMYLOU & THE NASH RAMBLERS – Ramble in Music City: the Lost Concert (2lp/cd) 29,95/18,95
INGRAM, CHRISTONE 'KINGFISH' – 662 (cd) 16,95
JANSCH, BERT, JOHN RENBOURN & PENTANGLE – Gold (3cd) 11,95
LAVERMAN, NYNKE – Plant (cd) 16,95
WATERS, MUDDY – Montreux Years (2lp/cd) 34,95/15,95
REGGAE/SKA/WORLD:
ALBOROSIE – For the Culture (lp) 19,95
BUENA VISTA SOCIAL CLUB – Buena Vista Social Club =25th Anniversary= (2lp+2cd/2lp/2cd) 109,95/29,95/18,95
MARLEY, BOB – Capitol Session '73 (2lp=coloured=/2lp) 34,95/32,95
PRINS HENDRIK AND THE OTHER MEMBERS OF THE ROYAL FAMILY – Aquarius (2lp) 19,95
VINYL:
BLACK PUMAS – Capitol Cuts: Live From Studio A (lp) 29,95
BLACK SABBATH – Sabbath Bloody Sabbath (lp) 24,95
CANDLEBOX – Happy Pills (2lp) 29,95
FAITHFULL, MARIANNE – Kissin' Time (lp) 24,95
FRANKLIN, ARETHA – Aretha (lp) 24,95
GRAND FUNK RAILROAD – Collected (2lp) 29,95
OTHER LIVES – Tamer Animals (lp) 27,95
PIXIES – Trompe Le Monde (lp) 27,95
SLY & THE FAMILY STONE – Best of (2lp) 29,95